COSPECT® Case Study: Unit Baths
COSPECT® Case Study: Unit Baths
Elimination of temperature imperfections in metal dies and reduction of start-up times.
Contribution toward improved productivity.
Operation:
Primary Pressure: 0.7 - 0.75 MPaG
Set Pressure:
- Upper Die* (130ºC) 0.20 - 0.24 MPaG
- Lower Die* (145ºC) 0.38 - 0.42 MPaG
* Control each metal die at set pressure
Steam Amount 100 - 150 kg/h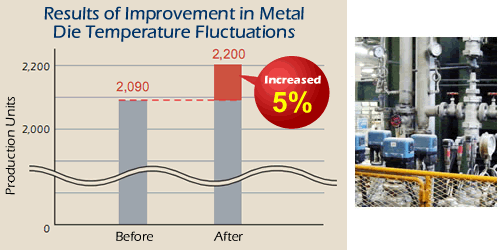 Plastics Industry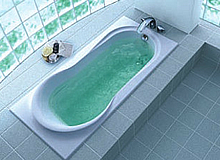 Appliance(s)
FRP (Fiber-reinforced Polymer) Press
Product(s)
Unit Baths
Operation
Batch operation
Models
COS-16, COSR-16, MC-COS-16
Number of years
in service
From 19 Years Ago
Technology Department, Product Technology Section said:
Our company uses metal dies set in 6 FRP presses to fabricate unit baths. The metal dies are heated with steam, and up until 7 years ago their temperature control units contained control valves made by several different manufacturers. However, the temperature of the metal dies fluctuated by approximately 10 ºC and this led to problems such as cracks in the finished product and imperfections in the filler. In response to this, onsite procedures such as condensate blowdown by means of manual operation were carried out and we somehow managed to stave off the worst of the problems in this manner, but there were limits to what we could do through such means.
Then, when it came time to replace a control unit, we chose a TLV COSPECT® (MC-COS), which had a proven 19-year track record on another type of press.
After installation of the COSPECT®, the fluctuations in temperature fell to within 1 - 2 ºC, and temperature-induced imperfections in fabrication were virtually eliminated.
In addition, the elimination of the need for manual condensate blowdown has led to a 5% increase in productivity.