TLV's flash steam recovery system cuts launderer's costs and reduces emissions
TLV's flash steam recovery system cuts launderer's costs and reduces emissions
TLV Euro Engineering (Cheltenham, UK)
TLV Euro Engineering has designed and supplied a flash steam recovery system for Watford Launderers and Cleaners' new laundry batch washer in order to help the company cope with an 870-tonne annual demand as well as reduce its costs.
Watford Launderers and Cleaners processes around 400,000 linen pieces per week for four- and five-star hotels in London.
Following a review of their steam system, TLV presented the company with a concrete plan of the benefits and approximate payback period related to installing a steam handling system that provides flash steam for the batch washer and a small amount of live steam from the boiler at the beginning of each day.
Key Benefits of Product Application
The system has saved the customer hundreds of tonnes of steam since installation and achieved payback in seven months.
Carbon emissions have also been reduced.
A follow-up meeting between TLV and Watford Launderers and Cleaners' engineers ensured the system worked smoothly.
Flash Vessel (FV)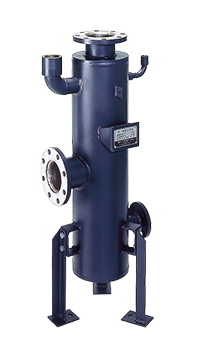 Feedback
Steve Haddow, laundry engineer at Watford Launderers and Cleaners, affirmed that he was impressed with the assistance provided by TLV throughout the process.