COSPECT® Case Study: Ham, Sausages
COSPECT® Case Study: Ham, Sausages
Freedom from the need for frequent pressure adjustments, and no maintenance necessary in 10 years!
Depending on the operating conditions, the pressure reducing valve may become dirty or corrode easily, requiring frequent pressure adjustment, disassembly and cleaning, and parts replacement. If it is located in a high place, the burden is even greater. This is an example of a case where the use of COSPECT® in such a location has freed the user from any trouble at all.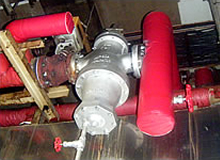 Director, Engineering Manager said:
"The PRVs we used in the beginning were always having trouble and were nothing but a big headache for us. The set pressure would quickly rise, so it was necessary to perform adjustments daily, and when even that didn't work, we were forced to disassemble the PRVs themselves. Removal of the diaphragms revealed that they were corroded, and we ended up having to replace them every year. On top of that, all the PRVs were installed at high elevations, so working on them involved a great deal of time, effort and money.
That was when we decided to give TLV's COSPECT® a try, after which all the problems we had been having simply disappeared.
In particular, when we changed from a fire-tube type boiler to a once-through type, we had lots of trouble with non-TLV PRVs. COSPECT®, however, has been operating continuously for the 10 years since then, and has had absolutely no need for maintenance.
It has been 18 years since we first started using COSPECT®, and there is simply no substitute for the sense of security that COSPECT® has given us."
Food Manufacturer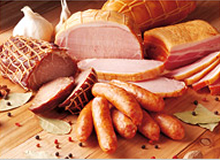 Appliances
Smoke House, Steam Transport Piping
Products
Ham, Sausages
Operation
Batch operation, continuous operation
Operating
Conditions
Primary Pressure 0.7 MPaG
Set Pressure 0.19 - 0.3 MPaG
Number of years
in service
From 18 Years Ago