TLV ToolBox

Steam system calculations just got easier... no matter where you are.
Introducing TLV Toolbox, a new mobile app entirely functional offline, carefully developed for steam technicians and engineers who require quick and easy access to calculations on-site or anywhere else.
Calculations cover the entire steam and condensate loop, from steam distribution, valve flow and pipe sizing to heat calculations and condensate transport/recovery. A convenient unit conversion tool, steam tables, and stall point calculator are also included.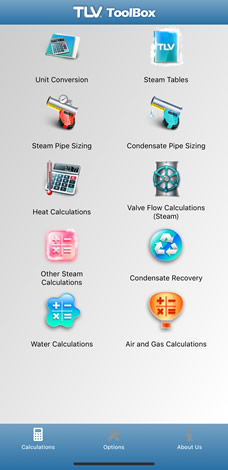 Languages:
English, Chinese (Simplified and Traditional), French, German, Russian, Korean, Japanese, Spanish (Latin American), Spanish (Spain), Portuguese, Turkish, Polish, Italian, Thai, and Dutch
Available Calculations:
Unit Conversion
Steam Tables (saturated and superheated steam)
Pipe Sizing
Condensate Load
Stall Point
Heat Calculations
Valve Flow Calculations