COSPECT® Case Study: Industrial Rubber Manufacturer
COSPECT® Case Study: Industrial Rubber Manufacturer
Still in service after 22 years
70% Installed Over 10 Years Ago
Realization of "Long Service Life"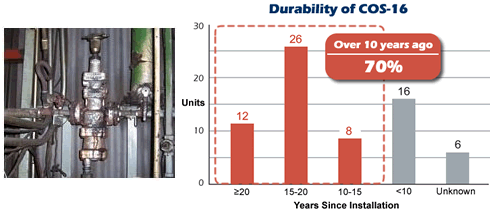 Technology Department, Facility Section Consultant said:
Until COSPECT®'s arrival on the market 22 years ago, maintenance of the pressure reducing valves we were using was an incredible ordeal and we had to spend a large amount of our time on cleaning and replacement of parts. We had many complaints about pressure reducing valves available at that time, such as the numerous failures due to seizing of internal parts caused by rust and scale, and the erosion of the valve after even only a short time in service.
When COSPECT® was first introduced by TLV 22 years ago, we decided to give it a try. We found that it supplied stable secondary pressure and required no maintenance. We were amazed that such a pressure reducing valve could actually exist! Since that time, we have gradually been replacing all our pressure reducing valves with COSPECT®. At present, 68 of the 76 PRVs at our installation are COS-16s, and we have plans to continue replacing the remainder until all are COSPECT®. To date, 70% of the COS-16s in use have been in operation for over 10 years. Even more remarkably, 12 of these have been in operation for over 20 years! We are extremely pleased and satisfied with the stability of secondary pressure and the long service life, and consider COSPECT® to be the ultimate in pressure reducing valves.
Industrial Rubber Manufacturer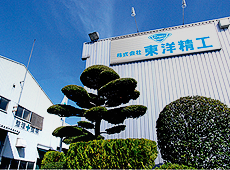 Appliance(s)
Multi-stage press
Product(s)
Industrial rubber caterpillars
Operation
Batch operation
Model
COS-16
Operating Conditions
Primary Pressure 0.8 MPaG
Set Pressure 0.5 MPaG
Number of years
in service
From 22 years ago