TLV vortex flowmeters for boiler steam monitoring
TLV vortex flowmeters for boiler steam monitoring
TLV Euro Engineering (Cheltenham, UK)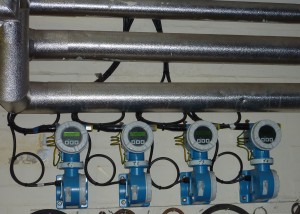 The TLV vortex flowmeters measuring steam flows at the Queen Elizabeth The Queen Mother Hospital in Margate
TLV has supplied vortex flowmeters for steam flow measurement in a development and refurbishment programme at the Queen Elizabeth The Queen Mother Hospital in Margate, Kent.
Each of the boilers was fitted with a high-performance vortex flowmeter from TLV Euro Engineering, together with a compact TLV flow computer to enable remote monitoring.
This allows the hospital to monitor how much steam is being used by the old and new buildings and, by monitoring and comparing daily gas, water and steam readings, identify any significant jumps in demand.
By checking the additional meters located around the site they are able to decide whether they have a general problem or if they can pinpoint an isolated incident.
The flowmeters also enable the production of cost allocation data.
The TLV vortex flowmeter was chosen because it best suited the hospital's application and its specification offered an integrated computer with remote access.
The flowmeter has helped to identify a small gas leak in a boiler pilot valve by highlighting an unexplained increase in gas usage in the summer that wasn't attributable to an increase in water or steam.
This high-performance flowmeter is capable of providing accurate volume or mass-flow measurements of gases, liquids and saturated or super-saturated steam.
It features an integrated computer to calculate mass flow from measured volume flow and temperature variables.
The Queen Elizabeth The Queen Mother Hospital installation was also equipped with a TLV EC351 remotely operated flow computer, which combines signals from volumetric flow meters with those from pressure, temperature and density sensors.
The EC351's flow equations use the hospital's data to calculate and display a range of variables that can be used for monitoring and diagnostic purposes.