Johnsons Stalbridge Linen Services' laundries utilize TLV steam pressure reducing system
Johnsons Stalbridge Linen Services' laundries utilize TLV steam pressure reducing system
TLV Euro Engineering (Cheltenham, UK)
Johnsons Stalbridge Linen Services has rolled out TLV Euro Engineering's CV-COS steam pressure reducing system across its four UK sites to allow the company to handle the increase in synthetic-based linen products received at its laundries.
Johnsons Stalbridge Linen Services uses steam for roller ironers, which dry and iron linen. Steam is generated at 10 bar to heat the ironers to the temperature required for cotton-based linen products.
To reduce the steam pressure to the approximately 6 to 8 bar needed to process synthetic-based linen products, TLV recommended the installation of the combined valve, trap and separator arrangement of its CV-COS coupled with a pressure sensor and controller on the steam branch line immediately before the roller ironer.
Key Benefits of Product Application
The TLV system saves space, simplifies system layout, piping and maintenance and eliminates the risk of damage and incorrect adjustment associated with side-mounted components.
The CV-COS automatically controls pressure, temperature or the flow rate of steam and removes condensate at a separation efficiency rate of up to 98 per cent.
The electro-pneumatic pressure-reducing valve adds a control function.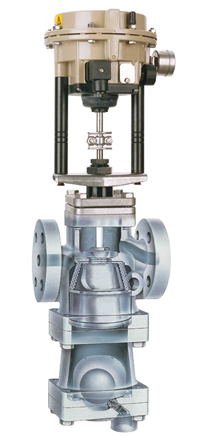 The CV-COS steam control valve includes a built-in cyclone separator and steam trap to provide high-quality steam for process applications.
Feedback
Richard Sparkes, site engineering manager at Johnsons Stalbridge Linen, said the installation was quick and easy; TLV was also on hand to provide engineering assistance. He added that there have been no problems since installing the pressure-reducing sets and that the drying efficiency of the ironers has improved.